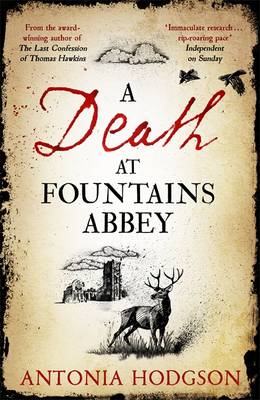 Blurb:
Late spring, 1728 and Thomas Hawkins has left London for the wild beauty of Yorkshire – forced on a mission he can't refuse. John Aislabie, one of the wealthiest men in England, has been threatened with murder. Blackmailed into investigating, Tom must hunt down those responsible, or lose the woman he loves forever.
Since Aislabie is widely regarded as the architect of the greatest financial swindle ever seen, there is no shortage of suspects.
Far from the ragged comforts of home, Tom and his ward Sam Fleet enter a world of elegant surfaces and hidden danger. The great estate is haunted by family secrets and simmering unease. Someone is determined to punish John Aislabie – and anyone who stands in the way. As the violence escalates and shocking truths are revealed, Tom is dragged, inexorably, towards the darkest night of his life.
This is the third instalment which features Thomas Hawkins struggling to come to terms with the shocking events from the previous book which had him staring death in the face.
In the wild Yorkshire countryside John Aislabie discovers a dead fawn with a note pinned to its carcass which promises to burn him and his family. When John asks the royal family for help, Tom is commanded by the Queen to aid John Aislabie and find the culprits before they strike, but Tom has his work cut out as John is the most hated man in England and there are no shortage of suspects. As events at John Aislabie's house escalates Tom and his ward Sam Fleet discover that in the world of the wealthy danger lurks behind every corner.
I adored this novel! It had everything I could have hoped for pace, engaging characters, humour, sharp witty dialogue and hair-raising twists.
One of the main things which really stood out while reading this novel was the characters.
Thomas Hawkins is not your stereotypical hero. He is a rogue who gambles, drinks and generally likes to keep his nose out of trouble, although that never happens for him! He is a lovable rogue whose unique ability to sit on the fringes of society means he can infiltrate into all levels of society within Georgian England.
Thomas' ward, Sam Fleet is a fourteen year old boy who has a knack for thieving and violence which gets him into trouble a lot but his love of drawing and puzzling things out still made him a character you wanted to look after so I ended up sympathising a lot with him.
I think my favourite character of all was Kitty, Tom's wife for all intent and purposes, is someone who 'loves a tavern brawl,' which for me really sums up her character. I loved her relationship with Tom which shone through and became the backbone of this novel and made me fall in love with both characters. I couldn't wait to see how their relationship would be tested, and tested it really is!
I thought it was a really interesting period of history to set a crime novel in, one full of political intrigue, drama and deadly villains. It is also a period I have never really been able to delve into before which I really enjoyed. I could tell straight away the author had done a substantial piece of research which she managed to weave into the story to reflect the period without it getting in the way of the main plot.
I thought this novel was multi-layered and compelling which took me on a thrilling adventure along with the characters. I even had trouble working out who the culprit was which really highlights Antonia's sneaky writing (which I loved).
I haven't read any of the other novels in this series but after reading A Death At Fountains Abbey I certainly will.
With thanks to Kerry Hood and Hodder & Stoughton for my advanced review copy.
To buy this book from Amazon click here.
To buy this book from Waterstones click here.
To find out more about Antonia Hodgson follow her on Twitter @AntoniaHodgson.