Blurb: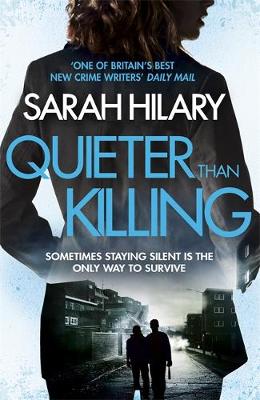 It's winter, the nights are dark and freezing, and a series of seemingly random assaults is pulling DI Marnie Rome and DS Noah Jake out onto streets of London. When Marnie's family home is ransacked, there are signs that the burglary can have only been committed by someone who knows her. Then a child goes missing, yet no-one has reported it. Suddenly, events seem connected, and it's personal.
Someone out there is playing games. It is time for both Marnie and Noah to face the truth about the creeping, chilling reaches of a troubled upbringing. Keeping quiet can be a means of survival, but the effects can be as terrible as killing.
Oh my – I cannot begin to describe how awesome this novel is! I read this in one weekend, I was so engrossed I forgot to watch the England Rugby match on TV (which I usually never miss).
Quieter Than Killing is the forth installment in the DI Marnie Rome series which sees Marnie and her partner Noah trying to piece together a number of assaults which are escalating in violence. But as they delve deeper and uncover a number of chilling secrets, they realise the culprit has plans which they could never have imagined…
I do think this is one of her best yet, it is chilling and disturbing which really captures the fear of the victims. The sub-plots with Marnie's foster brother and Noah's troubled brother also come to the forefront of this novel which I found fascinating – I couldn't wait to see what happened! The investigation itself focuses on Marnie having to deal with a vigilante who is attacking ex-convicts, teenage gangs, a missing child no-one knows is missing and convicts with a grudge – which kept me on the edge of my seat.
I really enjoyed the bleak descriptions of a harsh London winter which the author depicts, creating a chilling and haunting atmosphere for the characters.
The main protagonist DI Marnie Rome is at her very best in this novel, she isn't your stereotypical detective – she evokes sympathy for the victims and has a gritty determination to see the job through not matter what even though she is struggling to come to terms with the murder of her parents. One of the things I love about this series is Marnie's relationship with Noah – they bounce off each other and their friendship is at the heart of this novel.
For anyone who hasn't read this series yet, I would highly recommend. Sarah manages to weave an effortless plot, has hard hitting themes and strong and lovable characters who you can't help rooting for.
I loved loved loved this book and cannot recommend this enough. It has everything you can want from a gritty police procedural; surprising twists and shocking truths, a compelling plot and a fantastic cast of characters who you can get under your skin in a number of ways.
I am a massive fan of Sarah's novels and this one didn't disappoint. If anything I can't wait for book five.
This novel isn't out until 9th March but the good news is you can preorder this book from Amazon just click here
Or to preorder this book from Waterstones click here.
To find out more about Sarah Hilary follow her on Twitter at @sarah_hilary