First line: 'Four bodies. Vague Shapes. A stale, sticky smell.'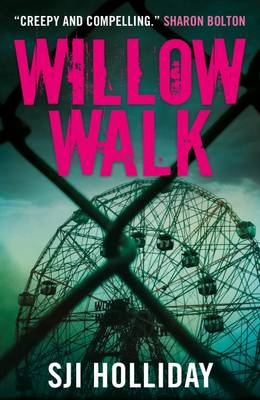 Blurb: When the past catches up, do you run and hide or stand and fight?
When a woman is brutally attacked on a lonely country road by an escaped inmate from a nearby psychiatric hospital, Sergeant Davie Gray must track him down before he strikes again. But Gray is already facing a series of deaths connected to legal highs and a local fairground, as well as dealing with his girlfriend Marie's bizarre behaviour.
As Gray investigates the crimes, he suspects a horrifying link between Marie and the man on the run – but how can he confront her when she's pushing him away?
As a terrified Marie is pulled back into a violent past she thought she'd escaped, she makes an irrevocable decision. And when events come to a head at a house party on Willow Walk, can Gray piece together the puzzle in time to stop the sleepy town of Banktoun being rocked by tragedy once more?
This is the second in the Banktoun trilogy which features Sergeant Davie Grey as he faces a disturbing case when a woman is found brutally attacked, an escaped inmate is on the loose and a spate of legal highs become connected.
But when Marie, Davie's new love interest, receives a letter one morning which turns her whole world upside down, Marie starts behaving erratically. As Marie's behaviour spirals further out of control as she is pulled into further into the violent past she thought she'd escaped Davie realises she is connected – but how?
What can I say about this without giving away spoilers? This is such a chilling, disturbing yet emotional read which kept me hooked as a reader right until the very end. The novel is told from the point of view of Davie, Marie and features a number of creepy letters addressed to Marie which reveals things about her character which cleverly reveals her backstory and her tragically dark past. I loved the dark, complex characters who all have deep secrets they are trying to hide from each other. The novel is set in a small community which I loved where everyone seems to know everyone else's business even though Marie is still trying to hide things.
What I really liked about the novel is the number of hard-hitting themes that the author tackles in this story including; obsessive love, violence and the dangers of legal highs.
This is a chilling story full of twists and turns which keeps the reader gripped until the very end. A definite must-read!
To buy this book on Amazon click here
To buy this book on Waterstones click here
To find out more about S J Holliday follow her on Twitter @SJIHolliday.